blog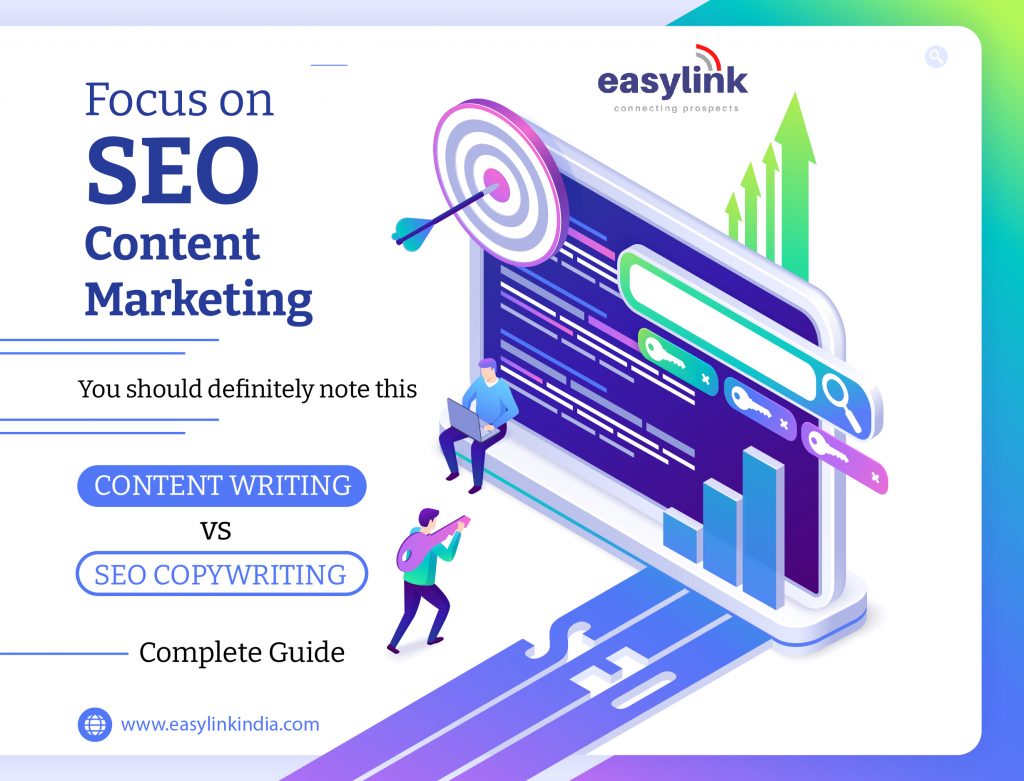 Distinction between SEO Content Writing & SEO Copywriting
It is important to know the difference between SEO content writing and copywriting as they are not just words on a web page, but they individually serve distinct goals to achieve.
SEO content writing– The major purpose is to boost organic traffic via search engines.
SEO copywriting– It is also known as the sales copy where its central objective is to convert the traffic into leads and sales.
If one's target is to generate more online business, it requires both to be done. Conversions cannot happen if the organic traffic is not generated for the product /service. So it is very essential to refocus on the immediate outcome required by the website owners so that specific results can be met at the earliest.
SEO Copywriting VS SEO Content Writing
It always depends upon what you want to gain? Do you want to build your brand and generate traffic or do you want to drive these potential customers to leads and sales. Both can be achieved by the combination of SEO copywriting and SEO content writing.
SEO copywriting is calculated as it employs specific keywords in highly influential and driving content that leads customers to procure the product or hire the service or to enroll in a subscription or end up that basically derives sales.
SEO content writing connects to customers in an informal trend via blogs, social media posts, eBooks, videos, podcasts etc.. That instigates brand visibility there by driving traffic to the website.
When one should engage an SEO Content Writer
To promote organic traffic to the website by building high quality rich content filled with optimized specific keywords. Knowledge on SEO is fundamental to create efficient impactful content but it is not crucial that the content spurs conversion.
Purposes of SEO Content Writing
To increase keyword ranking in Websites
Pushes visitors to other pages in Site
Promotes higher CTR in SERPs
Attracts large pool of backlinks
Enhances user friendliness in website
Redefines existing content
Transforms visitors to customers
When one should engage an SEO Copywriter
An SEO Copywriter must be able to provide you with copy for Instagram Ads, Facebook Ads, Google Ads, Product pages , Sales pages etc…As a copywriter ones only aim to convert traffic to leads and sales. The traffic that leads to sales may be driven from any sources such as social media, paid ads, or direct traffic. Thus a Copywriter should be competent to produce copies and convert the potential traffic from any platform to countable sales.
Types of Projects they include
| | |
| --- | --- |
| SEO Content | SEO Copy |
| Escalates website traffic organically | To develop specific type of copy |
| Engage and entice links to the site | Generate sales on targeting and marketing by creating copy to specific platform |
SEO content writers deal with contents like:
Blog posts- By choosing a topic in trend and creating it SEO friendly.
Services pages – Website Pages that explain and elaborate on the services and products and are SEO friendly.
PPC landing pages – Pay per clicks that lead to a landing page that encourages visitors to become subscribers.
Link-building content – Content that promotes and builds interlinks within the website and external links to other authorized websites.
Guest posts – Posts created for guests that are SEO friendly that increase the ranking in search engines.
Contextual links- These links are to be created to show the uniqueness and the relevance of the webpage.
SEO copywriters play with contents like:
Facebook ads- Paid campaigns in Facebook to create leads
Instagram ads- Stories, Reels, IGTV or an promotional campaigns to increase sales
Social media posts – Interactive content enhances engagement and social sharing results in potential leads.
Sales pages – Pages to be customized that are user friendly and SEO friendly
Newspaper ads – Catchy content that attracts customers via mass media
Product descriptions – Detailed and specific content leads visitors end up buying products/ services
Brand messaging – To highlight the USP of the business to stand out thus leads to sales and awareness.
Call-to-action buttons – Very important to convert one time visitors to subscribers and eventually customers.
On-site navigation copy – User friendly website navigation helps visitors to reach other pages in the website and doesn't miss out on leads.
Every webpage host should decide to choose between SEO Copywriter and SEO content writer based on the desired result they are targeting. However, both go hand in hand for successful digital marketing strategies. So pick your choice that suits your business and hire an experienced strategist for a clear and planned execution to obtain results. To know more on this and to have qualified assistance ping Easylink.