blog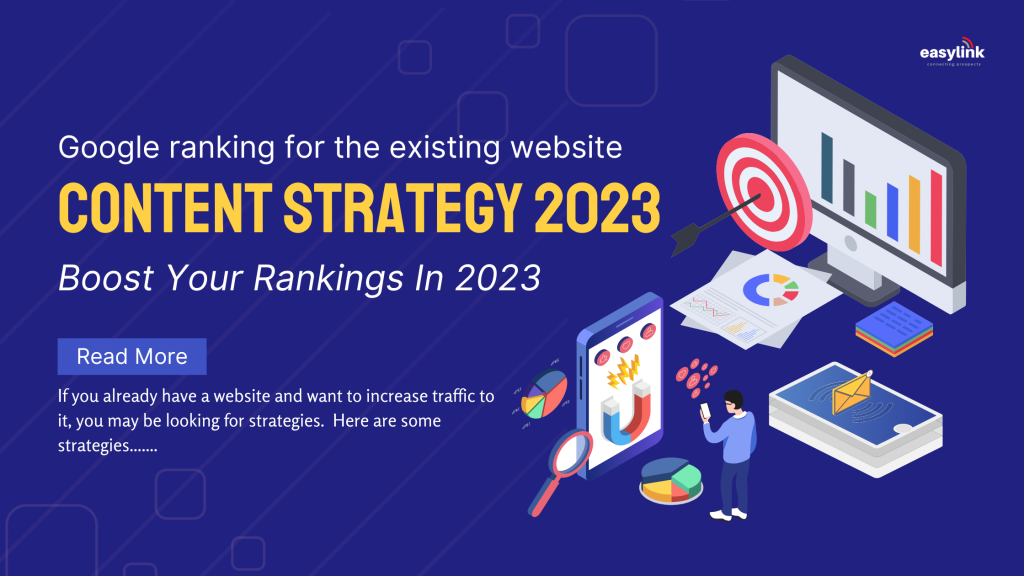 Content strategy & Google ranking for the existing website
How to improve your Google ranking with content strategy?
If you already have a website and want to increase traffic to it, you may be looking for strategies. One efficient approach to do this is to have an effective strategy for content that focuses on creating excellent, appropriate content that serves the demands of your target audience. Here are some strategies if you are thinking about How to Build a Content Strategy to Boost SEO Growth
Do some keyword research and determine who is your target market
Finding your target audience comes first in the process of creating a content strategy. What kind of content do they want, who are they, and what are their requirements and interests? You may modify your content to match the wants and tastes of your audience once you have a firm grasp of who they are.
Any content strategy must include keyword research. It involves figuring out the words and phrases that your target audience uses to search on the internet and then adding them to your content. Find suitable, high-volume, low-competition keywords for your company by using tools.
Produce excellent content and optimize your SEO
Your Google ranking will improve if you give high-quality content that interests and informs your readers. The information you share with readers should be well-researched, useful, and interesting. To keep your material engaging and fresh, use a variety of formats, including podcasts, blog articles, videos, and infographics.
You must optimize your content for search engines in addition to producing high-quality material. Use relevant keywords in your content, meta titles, meta descriptions, and picture captions to achieve this. Do not overuse keywords because doing so can result in keyword stuffing, which can potentially lower your rating.
Use internal linking and share content on social media.
If you search for How to Create an SEO Strategy for 2023, you can find internal linking as an important solution. Internal linking is an effective SEO strategy that will improve your Google rating. You can help Google understand the organizational structure of your website and the importance of each page by referring to other relevant sites on it.
Additionally, internal linking can help users stay on your website longer, which will help your bounce rate and engagement metrics. Social networking can be an effective strategy for promoting your content and increasing site traffic.
Share your content on social media and ask those who follow you to do the same for their own networks. To reach more people and increase traffic to your website, you can use sponsored social media advertising.
Get backlinks from reputable websites.
A key component of SEO is backlinks or links from other websites directing to your content. A backlink from a reputable website in your niche can help you rank higher on Google as it tells the search engine that your content is valuable and relevant.
Participating in online forums and groups where you may share your information or writing guest posts on other websites in your niche are two ways to gain backlinks.
Final thoughts
For your question of How Updating Your Old Content Can Help With Your Rankings, the answer is. It requires a combination of high-quality material, SEO optimization, internal linking, backlinks from reputable sites, and social media promotion to improve your site's Google rating with a content plan for an established site.